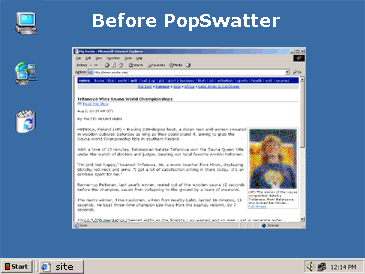 PopSwatter Benefits
Toolbar Features:
Kill pop-up ads before they even appear - it's 100% free and accessible directly from your browser!
Create "safe lists" for pop-ups you want to appear (media player, etc.)
No Spyware. No Adware.
Bonus: Also includes Smiley Central™, Cursor Mania™, Popular Screensavers™, My Fun Cards™, the MyWebSearch&reg search box and Search Assistant - relevant search results in response to misspelled or incorrectly formatted browser address requests.



Please read carefully. By clicking the "Download now!"
button above and downloading Popswatter, I accept
and agree to abide by the End User License Agreement